(Read the Oat Bran 25-50 update...)
(Best Health Promoting Recipe: Fermented Oatbran)
(Warning: Oatbran risks for those on stomach ulcer 'PPI' meds)

Once you have read this article, you will have the key to help you:-
Minimize your risk of diabetes, and at the same time reduce your risk of hormone dependent cancers (breast, prostate, colon).
Lower your blood cholesterol, and thus reduce your risk of heart disease.
Normalize your bowel bacteria thus giving your system powerful protection against intestinal infections and yeast infections in general, and giving your colon its preferred food- and also help reduce antisocial smells!
Reduce your dietary fat absorption by 10%
Stave off the hunger pangs when you are trying to diet.
Oat Bran is made up of the dehulled oat (or "groat"). It is not to be confused with the outer shell of the oat grain. It is full of nutrients. The fibre component is made up of:-
"Insoluble" fibre(4%)

(Insoluble fibre is the sort of fibre that does not dissolve or form a gel in water, and which even the bowel bacteria find impossible to digest).

"Soluble" fibre (4%)

(Soluble fibre does dissolve in water- usually forming a gel, is not digested by your digestive enzymes, but is used as food by certain bacteria).
Beta-Glucan The oat bran fibre has a chemical name: "Beta-glucan". Beta-glucan is a linear polysaccharide. Beta-glucan is the special health giving principle contained in oat bran.

Let us follow the career of oat bran as it traverses the digestive tract. I think that by the end of this article, you will be amazed that one food component can do so many good things! Events in the Stomach. Oat Bran Fibre in the stomach swells and absorbs water, thus giving a full feeling in the stomach. Wet Oat Bran Fibre also forms a gel, thus slowing gastric emptying, and lowering the glycemic (rise in blood sugar) effect of food eaten alongside of it. Events in the Small Intestine Oat Bran Fibre (as does all food fibre) increases the production of mucus (not known why). The extra mucus adds to the gelling effect of the Oat Bran Fibre, with the following effects:-
Slows mixing of digestive enzymes and bile acids with the intestinal contents
Slows the break down of lipid droplets.
Slows absorption by slowing the movement of intestinal contents. It thus take longer for absorbable nutrients to percolate toward the intestinal lining.
Increases the hormone cholecystokinine, a hormone which improves your feeling of satiety (that full feeling after a meal).
Up to 10% of dietary fat is actually excreted instead of absorbed.
Up to 10% of protein gets into the large bowel undigested.
Slows the digestion and of absorption of starches and sugars, thus reducing the blood glucose surge.
Note that all starches and sugars are absorbed by the time food passes into the large bowel. All this adds up to definite and measurable benefits: Just 40 grams per day of Oat Bran, containing 3.5 grams of fibre damps the hunger feeling. And even if you still consume the same total number of calories, you will achieve measurable weight loss! Events in the Large Intestine In the large bowel, Oat Bran Fibre is digested by bacteria into "short chain fatty acids" (SCFA for short). Mostly butyric acid. (Side comment: Other "soluble" dietary fibres such as Psyllium, Guargum, and Arabinoglucosan tend to be fermented into propionic acid). Oat Bran Fibre is thus a "pre-biotic": -
A Pre-biotic is a none-digestible food ingredient that beneficially affects the host by selectively stimulating the growth and/or activity of one or a limited number of bacteria in the colon.
Oat Bran Fibre specifically is food for, and increases the numbers of the good bacteria (Lactobacilli and Bifidobacterium) in the large bowel. In fact the total number of bacteria is increased so much that excess, or waste nitrogen goes into bacterial protein, thus diverting nitrogen excretion from the kidneys to the large bowel. That would certainly be of benefit for patients suffering renal failure. But here is where Oat Bran Fibre really starts to get healthy! The "SCFA's" produced by Oat Bran fermentation are antimicrobial! They inhibit the growth of potentially unhealthy or pathogenic bacteria and yeasts! This is probably due to the increase in colon acidity that they cause. (It is also theorized that some components of Oat Bran can bind with iron, thus making it less available to disease causing bacteria, which need iron to grow). Chart 1 shows the change in large bowel bacteria with aging. Note how the bad bacteria (Clostridium perfringens, E.coli and Streptococcus) increase with age, while Bifidobacterium decreases in number. From this chart, you can quickly understand why a pre-biotic such as Oat Bran Fibre is especially helpful for the middle aged or older.
Chart 1: The Change in Colon Bacteria with Age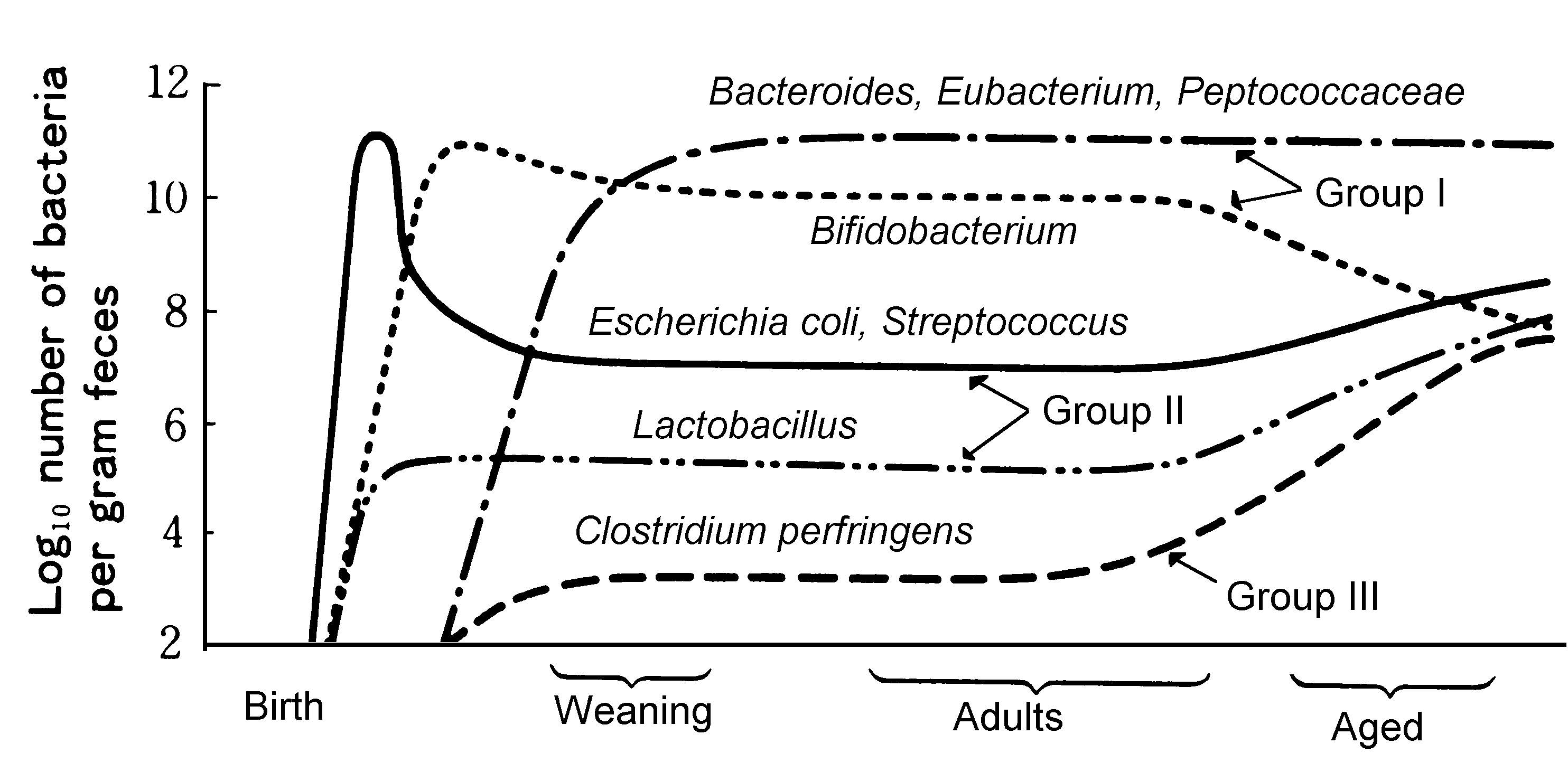 Not only does the Butyric Acid SCFA inhibit pathogenic bacteria, it is also the preferred energy source for the cellular lining of the large bowel. Butyric acid provides up to 70% of the large bowel energy requirements. This energy source enables the colonic bacteria to better absorb water and sodium, thus combating diarrhoea! Oat Bran Fibre increases the total fecal wet weight and decreases total large bowel transit time. Both these effects are due to extra bacterial mass. Oat Bran Fibre reputedly produces less gas and flatulent smells than wheat bran, and this benefit is increased by cooking the Oat Bran Fibre. It's also a good safe laxative- even at up to 20 grams per day (though this would be an excessive amount to take!) Proven Health Benefits for the whole Body:-
Smoothes blood glucose fluctuations.
Lowers cholesteral, especially "bad" (LDL) cholestral.
Aids dieting
Aids diabetics
Aids Renal patients
Provides slow release energy for endurance athletes and those who fast.
Helps with constipation.
Combats infections of the large bowel, and yeast infection of the bowel and skin of the "private parts".
Table: Daily Intake of Oat Bran Fibre
Amount of Oat Bran Fibre
Equates to (Oat Bran):
Equates to (Rolled Oats):
Beneficial Effect
3 grams
38 grams
75
Cholestral starts to reduce
5 grams
65 grams
125 grams
GI function is aided, blood glucose smoothed.
10 grams
125 grams
250 grams
Maximum effect.

Warning: protein pump inhibitor (PPI) risk

(Oat bran is contra-indicated in those with compromised digestive systems)...

Since drugs to reduce stomach acid are very common nowadays and these same drugs further compromise the functioning of an already compromised digestive system (ref. protein pump inhibitors, adverse effects), I make this oat bran warning: Oat bran may cause bowel osbstruction and constipation in compromised digestive systems. If your abilty to digest food is decreased for whatever reason, you should:
Start with smaller doses of oat bran and observe your progress
Pre-digest your oatbran by pre-soaking overnight (see recipe below)
Consider avoiding FODMAP carbohydrates (such as oatbran) altogether- scroll down this page to find the heading FODMAPS - solution for IBS and IBD
BREAKFAST PORRIDGE

(reprinted from Sally Fallon, Mary Enig: "Nourishing Traditions"- see advert to right. Information about soaking oat meal, look for the word "porridge" on this page: Traditional methods of Grain Preparation ).

(Serves 4)
1 cup oats, rolled or cracked
1 cup warm filtered water plus 2 tablespoons whey, yoghurt, kefir or buttermilk (pages 83-87) 1/2 teaspoon sea salt
1 cup filtered water
1 tablespoon flax seeds/pumpkins seeds/sunflower seeds (optional)
For highest benefits and best assimilation, porridge should be soaked overnight or even longer. Once soaked, oatmeal cooks up in less than 5 minutes-truly a fast food. (Note: Those with severe milk allergies can use lemon juice or vinegar in place of whey, yoghurt, kefir or buttermilk.) Mix oats with warm water mixture, cover and leave in a warm place for at least 7 hours and as long as 24 hours. Bring an additional 1 cup of water to a boil with sea salt. Add soaked oats, reduce heat, cover and simmer several minutes. Meanwhile, grind optional flax seeds in a mini grinder. Remove from heat, stir in optional flax seeds and let stand for a few minutes. Serve with plenty of butter or cream and a natural sweetener like Rapadura, date sugar, maple syrup, maple sugar or raw honey. You may also wish to add apricot butter (page 110), chopped crispy nuts (pages 513-516) or dried sweetened coconut meat (page 159). Price, DDS Nutrition and Physical De-generation

Stir the oat bran and cup of cold water together until all lumps are removed. Put on a stove at medium heat, and add the hot water.

Important:- Stir constantly with a wooden spoon! As thickening proceeds, add the hot water. Supplies the daily needs of two people. If it's too much to eat at breakfast, then save some for lunch or evening dessert.
---
Update: February 9, 2004
"Oatrim" or "Oat bran 25-50"
Oatrim or "Oat Bran 25-50" is a highly processed form of oat bran, which food companies are enthusiastically endorsing. It is the result of a patented process (The "Z-Trim" process) developed by the USDA Agricutural Research Service.

What is the Z-trim process by which "oatrim" and other soluble processed fibers are produced with a standard sizing of 25-50 microns? Answer:-
"In the Z-Trim process, aqueous gel fibers are obtained from dietary fibers by complete disintegration of their cellular structures in a multistage alkaline shear process".(3)
"Alkaline shear" refers to boiling and blenderizing the raw food product in strong alkaline solutions (solutions of Sodium or Potassium Hydroxide) at pH ranges from 8 all the way to up to 14. (Get that on your hands and you would have third degree burns in no time)! That strong alkalinity is of course neutralized before it is mixed with your "Low Fat" snack cakes, and limited testing indicates that the beta glucan and other oat bran benefits are still present(3). I take this opportunity to raise a couple of philosophical questions:_
Nature never uses boiling in strong alkali to process and digest foods. Can it really be healthy to have this sort of food processing foisted upon us?
How many years before possible harmful health effects of this new and unnatural process are definitely known?

Please make a donation!

Why donate?

Thank you!

Bruce Thomson
References:-
http://autismabstracts.tripod.com/intestinal.pdf
&copy Bruce Thomson, EasyVigour Project


Nourishing Traditions:
The book advertised below is unique in that it brings to you traditional (pre processed food era) cooking in an enjoyable and very educational format.