(1) Improve fitness, monitor goals, recover from cardio injury or congestive heart failure. (Runs for 12 weeks).
(2) Improve fitness, monitor goals, start from low fitness base. (Runs for 12 weeks).
(3) Plan a none competitive walk, monitor goals. (Runs for 12 weeks).
(4) Plan a none competitive run, monitor goals. (Runs for 12 weeks).
(5) Train for a one hour race or less, competitive. (Runs for 24 weeks).
(6) Train for a one to two hour race, competitive. (Runs for 24 weeks).
(7) Train for a two or more hour race, competitive. (Runs for 24 weeks).
The goals are pretty much self explanatory: To get a real feel for what they mean, you will have to select one of the 7 choices, and then proceed to the print and previews menu, and look at the training plans that EasyVigour Trainer generates for you! Caution! Seek professional advice before starting option 1! Also, if you intend to train at a significantly higher level than you have in the past, seek professional advice!
---
The E stands for "Easy Pace". Slow jogging alone is not recommended! - alternate it with relaxed walking. 45 minutes maximum. Cycling/walking/uphill walking/roller-skating/cross-country skiing/aquarobics are all likely to be easier on the joints. It's a good idea to make "Easy Pace" training something you do with family or friends. Whatever you do, relax and enjoy it! Your breathing should alow easy conversation. Heart rate should be somewhere in the range of 100 to 130. At the low heart rate end, you have a moderate to brisk, which will speed recovery of joints and ligaments. At the high heart rate end, it has good aerobic training benefits. During your easy training session, concentrate on relaxing your mind! Mentally relax all your body parts! Concentrate on sound posture and flowing. Let the movement be "easy". The recovery potential with this sort of approach is massive.

V stands for Velocity. It is practiced in ultra short interval fashion: 15 to 60 seconds only. It gives variety, and optimizes your body co-ordination at moderate or higher speeds. Two main forms of Velocity Interval:- BODY SPEED INTERVAL pace is at approximately race pace, but it doesn't feel like it! Ease into the speed, and maintain it for 30 to 45 seconds. Then go very easy for 90 to 120 seconds. Purpose is to learn nerve and muscle co-ordination. co-ordination ready for your peaking sprints.

PEAKING SPRINTS are run at a pace faster than race pace: Go "all out" for 15 seconds, then do a very easy pace for 30 seconds. five repeats, repeated again after a five minute easy pace. Again' "ease into the speed! Don't force it! Believe me, you 'll know what is meant by the term lactate stacking by the time you have comleted a total of 10 to 15 of these!

The third type of sprint is recommended during the pre- race taper. This is the "McMaster Taper" . Go at 95 % of maximum for one minute, then gently for 1 minute. This is a stacked lactate interval. It is not so much for adapting your muscle fibre toward sprint capability, but rather to get your system conditioned to the pain of race day lactic acid build up without training to exhaustion during you final pre- race taper.

I stands for medium-long Intervals . (2 to 6 minutes in length). For the competitive options listed above, the interval target heart rate is "anaerobic threshold" (AT). For the less demanding options, heart rates are set at rates less than AT. EasyVigour intervals are a little different in that a long warm up and warm down period are included in the total time. We believe this to minimize injury risk, maximize "active recovery", and (if you are training in excess of 5 hours weekly), you get a stamina boosting "overdistance component" to your interval workout too. (See "Easy" pace for more detailed discussion).

G stands for "Gym and Stretch" . Together with "Intervals and Uphill Intervals" , it forms the core of your EasyVigour training schedule. Be sure to join a Gym with qualified instructors. They'll help you to remain injury free! Strength, comfortable range of movement and posture and should all be maintained during your EasyVigour Build-up. There are may good systems of training to help you. Pilates, Calanetics, Tai Chi, or any system that emphasizes correct posture are recommended.

O stands for "Overdistance". "Overdistance" involves running/cycling/walking/other endurance activities for a period in excess of 1 hour to 1 and 1/2 hours. An "Easy" pace is recommended, but you should not get too hung up about "walking" the uphill parts! See "Easy" for a more detailed discussion. Every 20 minutes or so, accelerate to a fast but smooth Interval pace for 20 seconds.

U stands for "Uphill Intervals" . Uphill intervals are performed in much the same way as intervals, with the difference that you put an "uphill" component of resistance into the workout. The resistance should be enough to slow your speed at a given heart rate by 25 to 50%. Benefits are that you minimize damage caused by jarring, you get a maximal recruitment of muscle fibres, and it adds variety to your training!

R stands for "Race/pace" . If you intend to race, no amount of intervals and gym workouts can replace it. "Race" is an all out effort. "Pace" is a hard effort, but you know at the end of the session you could have gone harder. It's up to you to decide how much punishment your body can absorb! Experienced runners know that it takes 5 to 9 weeks to reach their peak of season.
---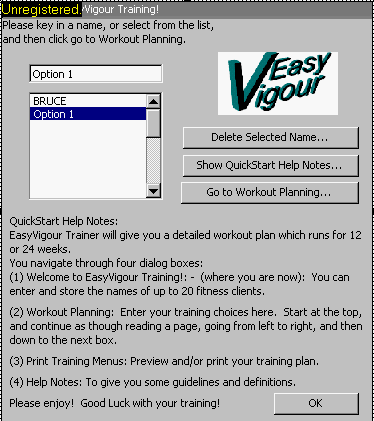 Upon opening the EVPlanner Workbook, (and assuming you have enabled macros), you will see the Welcome and Login dialog. EVPlanner has sufficient space to store the names and training choices of 20 persons. Type in a new name, or select an existing name from the list. The name you select or key in is automatically selected when you click the Go to Work Out Planning button. See picture below.
---
| | |
| --- | --- |
| | |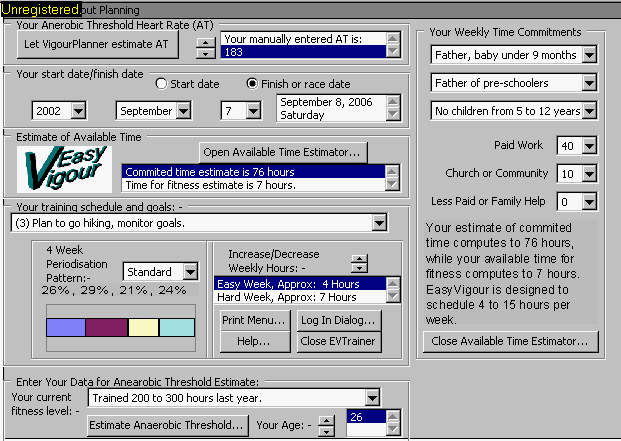 ANAEROBIC THRESHOLD (AT) is the heart rate at which lactic acid producing muscle is beginning to have to work hard. As a result, lactic acid levels in the blood begin to climb quickly. EasyVigour modeling assumes this to be at a heart rate of 85 to 95 % of your maximum heart rate. The actual percentage depending upon your genetics and your background level of training, especially interval and/or race speed training. You know you are at or above ANAEROBIC THRESHOLD when your breathing rate picks up and becomes uncomfortable, your legs are starting to feel sore, and it feels as though "a bear has jumped on your back"! EVPlanner will ask you to input your anaerobic threshold .
To get you started, EVPlanner has a built in AT heart rate calculator. (Click on Let VigourPlanner estimate AT...) For a more accurate idea, you will need to use the "bear and rubber legs" method described above, or do a "Conconi Test" . (Covered in the separate "Conconi Test" software enabled workbook).
Your Start/Finish Date:- Choose "Start date" if you do not have a target race date to plan for.
Estimate of Available Time:- If you want to, you can ask EVPlanner to help you estimate the time you have available for a training program. Just click on "Open Available Time Estimator". Use of the Available time estimator is optional, and its advice is for your guidance only. (It proves to be quite a discussion point amongst my friends)!
Your Training Schedule and Goals:- Select one of the seven choices!
4 Week Periodization Pattern:- "Minimal" means that you do about the same level of training every week of the EVPlanner 4 week cycle. "Standard" means that there is some variation in your training times for the 4 week training cycle. Standard is the recommended setting for most people. "Extreme" is the cycle to choose if you have a very busy working week, but you are able to plan to take one (preferably two) days off for the scheduled hard week. (Note: The Periodization bar chart that you see in the Workout Planning example below is not visible in later versions of Excel. Why? - Don't know. Try asking Microsoft).
Increase/Decrease Weekly Hours:- Click up or down on the spinner to choose your range of weekly training hours. You will have to click on the print menu button then choose "Print Your Training Overview" to see your plan in greater detail.
---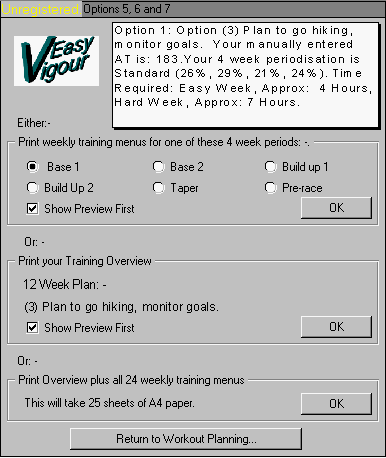 The 4-Week Periods
BASE 1:- The first 4 weeks of your training program. Introduces you to the EVPlanner exercise regime.
BASE 2:- The second 4 weeks of your training program. Similar to Base 1, but slightly increases the times of the sessions.
BUILDUP 1:- The third 4 week period of your training program. Together with the next stage, schedules your greatest distances. The none-competitive options (Options1 to 4) do not go beyond Buildup 1.
BUILDUP 2:- The fourth week in you training program. This 4 week period incorporates the greatest distances in your plan. It begins to schedule speed workouts too. Very demanding!
TAPER:- The fifth week in your training program. You've done the greatest distances, and the benefit of that distance training will last you 8 to 12 weeks. It's now time to taper your distance down, and to really work on the speed!
PRE-RACE:- The sixth and final week in your training program. More hard breathing speed sessions! The very final week gives you the "McMaster University' Pre-Race Taper, which is proven to improve the race times of middle distance runners!

The Training Overview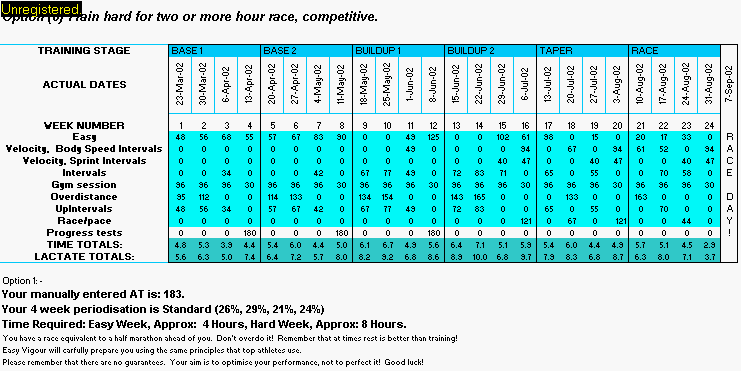 The 24 Week period overview that is shown above is an example of the training print out that EasyVigour will generate for you. A lot of the terms have already been discussed. (See EasyVigour acronym).
---

The last week in your four week cycle is designed to let you assess your progress. It is also there to give you some much needed variety, and to stimulate you to fine tune your training strategies.
The Weekly Training Schedule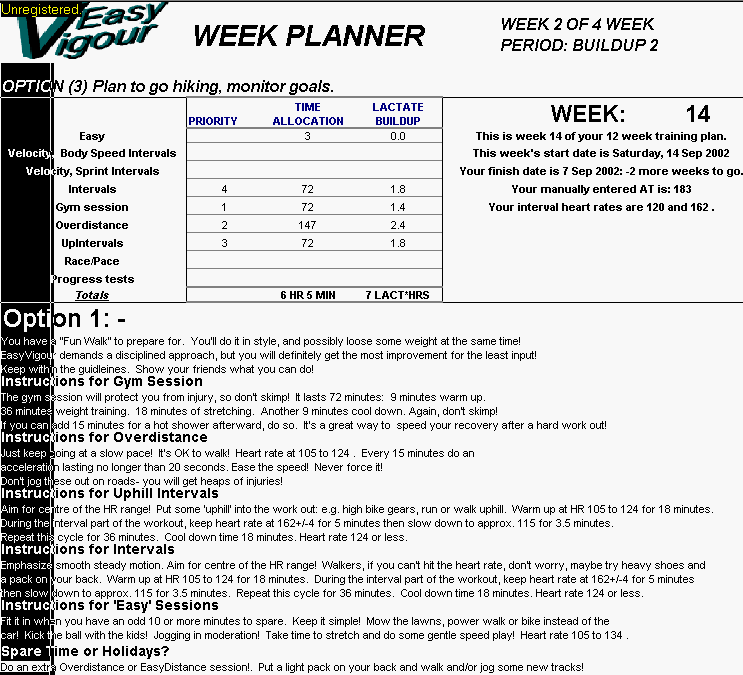 DETAILED HEART RATE ADVICE Note the detailed heart rate advice and timing for interval sessions. You need a heart rate monitor such as Polar if you are going to do things precisely. Otherwise, count the carotid pulse at your neck. It's a reasonable alternative.
---

Each weekly advice sheet prioritizes your training schedule so that it is easy for you to decide which training session to drop, shorten, or run at an easier pace. You can drop up to two sessions per month and your total training plan will stay intact. If you find yourself having to drop more than that, you may well have to choose some less ambitious training goals and times. With EasyVigour Trainer's help, that is very easy to do! Note: Once you have missed a session, do not try to make it up again. Better to see value in the "down time" as time for the body to recover and build after hard workouts!
---

Note the lactate loading figures in the above weekly schedule. Form this you can get a rough idea that the Overdistance session is likely to be the most tiring. As a rough "rule of thumb", you can halve and double the lactate number: half the lactate figure is the approximate number of days that you have recovered sufficiently to benefit from another similar session. Twice the lactate figure is equivalent to the number of days at which a repeat training session will just maintain your gains for that type of session. For example, (assuming you have been getting your weekly gains from your plan),an interval session with a lactate loading score of 1.8 should be repeated between one and four days later. That's not particularly hard.

Cross training:- One hard session is followed by a second hard session in a different discipline. For example, running followed one day later by cycling or swimming.

REST:- You must plan to rest after the stress of training. Otherwise the body will not have a positive training response. Chronic fatigue, with all the annoying symptoms of niggling illness or worse will set in! If you are not achieving "EasyVigour", you are probably not resting enough! That means quiet time showering, sleeping, reading etc. Under 30, you need one to two days of recovery between medium to hard sessions to maximize the fitness gains. Over 40, you need two to three days of recovery after the same medium to hard session to maximize the gains, but you can minimize recovery "down time" to some extent by cross training, active recovery (see "Easy Pace" above), and massage, nice hot leisurely showers, and fluid and food replenishment both during and immediately after exercise. It works the other way round too! I.e., you should "rest and stress".
Please enjoy! Good Luck with your training!
Bruce Thomson