Comprehensive Guide to Major Pilates Teacher Training Schools and Pilates Certification Bodies...
In the USA and Canada




(I have put these in order of the amount of information that they are prepared to provide free of charge at their websites).

Michael Miller Pilates

http://www.hermit.com/index.htm
"Pilates is an idea..."
Has some useful information about Michael Miller and his approach to Pilates. I list Michael Miller Pilates at the top because he is the closest thing to an online school for Pilates Teacher Training. Pictures, questions and text constitute informal tutorials that will educate and challenge you to create your own best interpretation of "the Method". Plenty of samples to view. Take for example this very telling comment:-
"Pilates principles are the fad issue these days, as though you could explain Pilates through a vague and randomly ordered focus on principles."
(You can sign up online - annual subscription looks very reasonable, and there is now a Michael Miller Instructor Manual). See also: frameable art Eye test #12 http://www.hermit.com/stack/050908.htm also the other postings ("blogs" is the modern word, but somehow, that word doesn't do this website justice) on the home page, link shown above.

Pilates Institute of America

Pilates Institute of America
Quote from their website:
Pilates Institute of America offers the best in teacher training, continuing education and distance learning for the Pilates, Fitness and Wellness professional.
I note also that their Mat Classes are listed under Mind and Body at "ACE" (American Council on Exercise). That has to be a great recommendation in itself. The website hints at a practical and professional organization, capable to handle just about every form of Pilates training and equipment query that you might have.

Thanks to Stacey for letting me know!

BASIPilates - Rael Isacowitz

http://www.basipilates.com/
I felt honoured to receive the following email from Rael -

Hi Bruce...

I came across you site today while involved in some research and read it with great interest. My name is Rael Isacowitz. I have been teaching Pilates for close to 30 years and have taught many of the teachers you list on your site. Others are close colleagues of mine or certainly acquaintances. The name of my training organization is Body Arts and Science International or known as BASI (BASIpilates.com) based in Southern California, but taught in 14 countries. It was first established in 1989 and I have been offering Pilates education to teachers since then. Having lived for awhile in Australia I know many of the Australian teachers and some of the teachers from New Zealand. Sally Anderson was one of my earlier students and then instructors as was Megan Williams before that (who unfortunately passed away). Alan Menezes is a friend as are many others. I would very much appreciate you listing Body Arts and Science International (BASIpilates.com). I also refer you to my recently released book Pilates see reviews, published by Human Kinetics. Although I still teach internationally, as I have done for many years, I now live up in Oregon in a little town called Hood River where I can windsurf, ski, hike, mountain bike and enjoy being with my wife and son.

All the best to you and continue enjoying life...

Rael Isacowitz, Basi Pilates

Rael, I really enjoyed reading your book (reviewed here ). It truly lifted my sights and expanded my horizons. I hope to encourage students at all levels to read and enjoy it as much as I have.

Stott Pilates

Stott Pilates
Canadian co-owners Lindsay G. Merrithew and Moira Merrithew are dedicated to offering quality training. Moira is the Pilates expert. Her bio states that she was a dancer who was schooled in Pilates by Romana Kryzanowska, who is said to be the only living "Pilates Elder" not associated with the Pilates Method Alliance. Check out the Stott Newsletter Archive. for professional short videos that share great ideas. In fact, they "publish and sell the single largest collection of pilates videos worldwide" - and I believe them! Not including gift packs, I counted 54 videos (June 2005) for home use or for instructor training! The range of training videos is comprehensive to say the least: Mat (no surprises there), but also training in the arcane arts of Pilates "Bosu", Foam Roller, Reformer, Barrel, Cadillac, Stability Chair, and Magic Circles. There is also Pilates style core training for lower back and shoulder rehabilitation. If you want to learn what these things look like, browse the videos!


Stott Pilates is just one part of the Merrithew Health &Fitness group:


STOTT PILATES® incorporates modern exercise principles, and applies proven and accepted practices in biomechanics, rehabilitation and athletic performance enhancement. After realizing the benefits of the concepts of the original Pilates method.

ZEN·GA™ - a synergistic blend of mind-body modalities, this program is supported by exercise science and the newest findings in fascial fitness. ZEN?GA focuses on core stability, stamina and resilience affording the benefits of improved strength, enhanced elasticity, creating a more youthful, resilient and fluid body.

CORE™ Athletic Conditioning & Performance Training?? a unique training program that focuses on functional fitness targeting core strength and kinesthetic awareness leading to improvements in total-body strength and power.

Total Barre™ - a high-energy and dynamic program that integrates elements of Pilates, dance, cardio & strength training that emphasizes the correct biomechanics of movement combined with the power of music to increase strength, flexibility, stamina and dynamic stability.

(Updated 11th February 2014 - thankyou to the team at Merrithew Health & Fitness for your help).

Mary Bowen Pilates

http://www.pilates-marybowen.com/
Unlike many of the teaching school websites, this website has some very good historical pictures and articles.
The Sample Video clips of Joseph Pilates will inspire you to turn your mat session into a mind-and-body work of art!
Mary claims to be one of only five remaining "Pilates Elders". Like many Pilates instructors, she is a philosopher (learned Jungian psychiatry). She holds training workshops. Unlike many websites of Pilates training schools, this one offers some very good information about Joseph Pilates and his Method.




The PMA - Pilates Method Alliance

http://www.pilatesmethodalliance.org/
They have a good article about the Life of Joseph Pilates. The rest of the info at this site is the political and organizational baggage that goes with being a massive umbrella organization. Very off-putting for the brand new Pilates student! I have put together some "quick tour" references to aid your first time visit.

Note on browser compatibilities: Most or all of this site is hosted on a UNIX - Mac OS 10 server, and the page presentation relies heavily upon java scripting. It runs very well on a standard Macintosh computer, but can be glitchy on a standard PC. If you're having problems, beg your wife, partner or friend for the use of her Macintosh! - Pilates Method Alliance needs to use the same web services as those of my top two UK picks!).
Pilates Method Alliance in its mission statement , says "The Pilates Method Alliance™ (PMA) is the international not–for–profit organization of teachers, teacher trainers, studios and facilities..." There are many none PMA Pilates Training Schools, so I think that a little less of "the" and a little more of "a" would be appropriate. Check out the comments re: PMA at Michael Miller Pilates: Pilates Politics.
That having been said, it is a massive Teaching Organization:- The Pilates Guild™

http://www.pilates-studio.com/docs/guild/guild.htm
This sounds a little more like a mission statement than that of the Pilates Method Alliance:-
The purpose of the Pilates Guild™ is to maintain a recognizable foundation for licensed, Certified Instructors and an international network whose collective work is consistent and of the highest quality.
They've been around since 1990. That's a long time for a Pilates training organization. They claim linkage to the original New York Joe Pilates studio. They hold archival material and list a huge amount of article titles, but publish none of it on their website. (I wish they would). Their Instructor search facility (unlike the PMA one) has rock solid functionality, and reveals 132 instructors in the state of New York and none in South Dakota. That would make them half the size of the PMA within the USA, but they do have a stronger international reach.

PhysicalMind Institute

http://www.themethodpilates.com/main.aspx
Joan Breibart is the President of the PHYSICALMIND INSTITUTE, formerly the Institute for the Pilates Method. Breibart claims she started the Pilates trend in 1991 with the first Pilates certification, the first Pilates video, and the first portable Reformer. Joan's Pilates training programs are being used world-wide (including Wellington New Zealand).
"She regularly writes on all aspects of the Pilates Movement..."
Pity none of her writings are on show at her website, which has no free training information to speak of.

She is famous for "Standing Pilates", which was designed for the elderly and infirm (available as a pdf immediate download from amazon.com) -see advert in right hand panel).




Romana's Pilates® (Romana Kryzanowska's Pilates)

http://www.romanaspilates.com/
"Offers certification programs nationally out of New York City, NY."
She is perhaps the only Pilates "Elder" not associated with the Pilates Method Alliance. Read this page to understand why. She is famous for having trained Mari Winsor, Moira Stott-Merrithew and Brooke Siler. More information, word search this page for "Romana".

Polestar Pilates

http://www.polestareducation.com/
"Offers comprehensive certification process in the field of evolved techniques".
They market themselves especially to physiotherapists and doctors. Polestar Pilates Claims to be the most Physiotherapy orientated Pilates Training Institute, with stringent teaching for the clinical (injury and rehab) setting. They have links to daughter websites around the world.
"Polestar President Brent Anderson, PT OCS, brings a scientific and holistic perspective to the work of Joseph Pilates. His extensive background in rehabilitation and movement science expands on Pilates' principles by adding manual skills, advanced body awareness, and principles from motor control theory. The Polestar Pilates Method applies current research and practice in orthopedics, sports medicine and movement science to the principles of Joseph Pilates".
They offer courses in my home country (New Zealand). They are very good courses.

If you are a physiotherapist wanting to learn Pilates, please read this!-
Pilates is a powerful adjunct to standard physiotherapy. Why? - Because Joseph Pilates had this attitude to disability:- "A person with an injury is never a patient, but rather, a "person with an injury". Read Brooke Siler's quotes about Pilates' attitude to injury. Likewise, Ron Fletcher's bio, and how Joe "fixed" him (these are must reads!).

Peak Pilates Training Division
http://www.peakpilates.com/Training/cat_training.cfm

A thoroughly professional website, Peak Pilates takes time to present their Teachers with full color photographs - that is a rarity. The CV's of these teachers encourage me to believe in the comprehensive training and certification that they offer. (Note: it's not listed in her web based CV, but Clare Dunphy was trained and certified by Romana Kryzanowska - that puts her name in the same training league as Mari Winsor, Brooke Siler, Alicia Ungaro and Moira Stott).




The following is a list of Unreviewed Pilates Training Schools in the USA:-

On Center Conditioning
http://www.oncenterconditioning.com
Costa Mesa California

West Coast Pilates
http://www.westcoastpilates.net/
Del Mar California

The Energy Within
http://www.stottenergy.com
Encinatas California

Fit First Pilates
http://www.fitfirstpilates.com
Mill Valley California

Center of Balance
http://centerofbalance.com/
Mountain View California

Core Dynamics, Inc. (Michele Larsson)
http://coredynamicspilates.com
Santa Fe New Mexico

FromtheCenter
http://www.fromthecenterpilates.com
Chicago Illinois

Momentum
http://www.momentum-studio.com
Santa Fe New Mexico

GoodBody's PilateSystem
http://www.thepilatesystem.com
Dallas Texas

The Pilates Studio® New York
No website
Tel 1-800-4-PILATES (New York)

Power Pilates
No website
New York Tel 212-371-0700

Pilates Certification Center
No website

Raleigh North Carolina Tel 919-787-0508 866-787-0508 (toll-free)

The Pilates Center of Austin
No website
Austin Texas Tel 512-467-8009




Pilates Training Schools and Teaching Bodies in the UK
(Not a complete guide to Pilates Teacher Training Schools and Pilates Certification in the UK- I welcome suggestions for additions).

The Australian Physiotherapy & Pilates Institute (APPI)
http://www.ausphysio.com/

The Australian Physiotherapy & Pilates Institute (APPI) is
"firmly established as the leading force in the delivery of safe and effective pilates teacher training for physiotherapists and equivalent degree therapists. Established in 1999, the APPI is the only European based pilates institute founded and directed by fully qualified physiotherapists. The APPI offer both Matwork and Equipment Certification alongside numerous CPD courses, workshops and masterclasses".

Webmaster's Comment: This organisation is based in London, so why the descriptor "Australian"? Here is the answer.
"The directors of the company are Australian, originally from Melbourne".
I recently had a visit to Melbourne, Australia. It's a splendid city of 4 million people. Although I didn't meet the directors of APPI, I did get to sample the local Pilates. There are some very good studios and instructors around Melbourne.

Pilates Foundation
http://www.pilatesfoundation.com/index.php

Just a shop front website but never mind! - This has got to be the best Pilates Training shop front that I have ever seen. Very appealing to the eye, easy to navigate, and the "Class Finder" for UK Pilates studio location is terrific. But don't take my word for it - go see! Also, check out the list of "questions to ask about teachers" at the bottom of this page.

Pilates-Institute
http://www.pilates-institute.com/default.asp

(Also loosely referred to as "Michael King Pilates" after Micael King, its founder. It has a greater degree of clinical training than does pure New York Classical Pilates - good if you want grounding in instructing the injured, but that approach does slow the flow of a mat class. This is a big Pilates organization - Has branches throughout the UK and Europe. The website is not the work of art of the above, but is (unlike that of the PMA) still very functional! See: instructor search

Alan Herdman
http://www.alanherdmanpilates.co.uk/

"Alan studied at the London School of Contemporary Dance and was working as a teacher and dancer when, in the late 1960s, he was invited to New York to learn about the Joseph Pilates Method. There he worked intensively with Carola Trier and Bob Fitzgerald, two instructors who had been trained by Pilates himself. Alan returned in 1970 to set up Britain's first-ever Pilates studio. Among his first clients were actors, dancers and singers, but word soon spread as doctors and physiotherapists began recommending Pilates training to patients struggling with chronic injuries".
Alan trained Australian Pilates pioneer Alan Menezes (see below). His website doesn't say a huge amount, but it will leave you feeling very energized by what it does say.

Lynne Robinson/Graham Thomson - Body Control Pilates
http://www.bodycontrol.co.uk/

Lynne rivals Moira Stott for Pilates Publications. Lynne is a co-founder of a major UK based Pilates Teacher Training School and Pilates Certification Organization (Body Control Pilates) which incorporates elements of Alexander Teaching and Franklin method, seeking to make it apply directly to day to day living. Many people would say that it is a little too slow for them. Others would say that it is too "evolved", and some of the original Pilates essentials have been lost or downplayed. For example, Pilates traditionalist Brooke Siler consistently cues Gluteal contraction. Lynne Robinson never does. Some good biographies. Lynne is an excellent teacher and prolific writer of a comprehensive set of training books and Pilates Videos for sale. Not a lot of general Pilates information at this site though.




Joyce Gavin - BODYFIRM Pilates
http://www.pilatesireland.org/

"Ireland's Number One Pilates Training and Therapy Center" (they also do Bowen "Massage" Work)

Pilates Training Schools and Teaching Bodies In Australia
(Not a complete guide to Pilates Teacher Training Schools and Pilates Certification in Australia- I welcome suggestions for additions).

The Australian Pilates Method Association (APMA) www.australianpilates.asn.au

Says Neil Nabbefeld, Vice President of the Australian Pilates Method Association:-
"We're a not-for-profit organisation that was created around 1995. At that time, there were no not-for profit organisations which were interested in setting standards (educational, professional, etc) for the Pilates professionals. I could probably safely state, we were actually the first in the world, and we're glad to see other countries beginning to follow suite".
This is a simple and easy to negotiate website, and the Discussion group participants are a courteous and helpful bunch. By the look of this website, any person wanting instructor training should feel that they were in very competent hands.

Alan Menezes - Pilates Institute of Australasia - Aussie Pilates
Pilates Institute of Australasia - Aussie Pilates


Alan Menezes is the Pioneer of the Pilates Method in Australasia. His CV is to be found here:- ALLAN MENEZES - Pilates Pioneer and Master Teacher
Alan's life story is instructive. Pilates aided his healing and eventual complete recovery form a prolapsed disc in his back. That is pretty good evidence that he knows what he is talking about. To me, Alan is famous for his Pilates training inspired "Perfect Abdominal Curl", which in my mind is a perfect example of adapting Pilates to the needs of the client - it's a great exercise in the healing phase of a prolapsed disc - something Joseph Pilates would have recommended for a specific client, I'm sure.

See also: Instructor training by pilates institute of australasia

Pilates International
http://www.pilatesint.com/

Pilates International is based in Sydney, Australia - "Pilates International sets the benchmark for the Australasian industry". (How can they claim that? - read on!) "Sally [Anderson] is the director [and founder] of Pilates International Pty Ltd. and has taught Pilates ... for over fifteen years. Sally is [also] the founding and current president of the industry regulatory body the "Pilates Alliance Australasia". Pilates International is a PMA (Pilates Method Alliance) "level 4" member.

My comment: Whatever "PMA level 4" means, Sally is not shy of stating it. Why should an Australian based organisation call itself "International"? - The answer was kindly provided by Elena Philp (Pilates Precision) who currently speaks for Pilates International in New Zealand: "certification courses and workshops are presented in Singapore, South Africa and England as well as Australia and New Zealand". Australians make very good entrepreneurs, and are well represented on the stage of world business, so look out world!

In New Zealand

Netfit - teaches the Peak Pilates Classical Training Program

http://netfit.co.nz/default.aspx?action=pilates.home

(Peak Pilates is listed here).

The above page doesn't tell you much does it? First, let me say that they are Pilates Method Alliance members. The following is extracted from Google's cache of Netfit's personnel page (January 2005):-

Tina Ball is the Director of Netfit...
"Having been involved in the industry since the late 1970's in various capacities from aerobic instructor, to instructor trainer, to owning and managing fitness centers where I was key in bringing the Step Reebok program to New Zealand. One of the main highlights in my career has been my involvement with Network (now called Netfit) since 1992, initiating New Zealand's first national convention. I am passionate and dedicated to empowering people with quality, functional knowledge to help each one achieve their own individual aspirations. Outside of Netfit, I am an Olympic Weightlifting athlete representing New Zealand at National and International level, which keeps me fit, focused and challenged. When I am not at Netfit or lifting, I enjoy reading, cooking and walking 'Ozzie' & 'Maddie'."
Tina,a devoted member of Pilates Method Alliance and a passionate Pilates Teacher Trianer/Instructor takes pride in running what is very possibly New Zealand's largest Pilates Teacher Training and Certification School.

Pilates Precision
http://www.pilates.net.nz/

Is a studio based somewhere in Auckland, New Zealand (precise address not stated). They host training and mentorship for Austrailian based Pilates International.

Pilates Body Studio - A Polestar Pilates Training School http://www.bodystudio.co.nz/teachertraining.html


"Maree Seerden, founder of the Studio, has been a devotee to the Pilates technique for almost 17 years; she started teaching Pilates based exercises in 1992 in London at the famous Body Control studios in South Kensington under the auspices of Gordon Thomson....Maree Seerden makes overseas training trips annually to further increase her knowledge of Pilates and trains with masters from all around the world. She always comes back inspired and motivated and shares her new ideas with staff and clients".
Maree has taken the time to introduce herself. Her home page shows a heart-warming picture of Maree with toddler twin sons at her Auckland Training School. This website offers no Pilates training information as such, but at least I feel that I have gotten to know the proprietor!

Tania Huddart -"Physicalmind Institute - The Method® Pilates Training System"
http://www.heartsandbones.co.nz/

Tania has a Bachelor of Philosophy with Honours, and a Diploma in Ballet. A well organized website, which lets you know where when and what. But again, no Pilates information - Tania's CV and Pilates Training would be appreciated! Physical Mind Institute's head office is listed on this page.

Pilates Personal Fitness Pilates http://www.pilatespersonal.co.nz/index.htm

Excellent "shop front" website. Tells you what you need to know before making a personal visit. I thoroughly enjoyed my visits to "Pilates Personal Fitness" (December of 2005). They are based in Madras Street, Christchurch, New Zealand and have a steady stream of special needs (and normal) clients. Pilates Personal Fitness has a well equiped gym. The instructors have experience in Iyengar Yoga, Osteopathy, and various styles of "evolved" Pilates.

Mount Pleasant Pilates - Pilates the way Joseph intended it to be.

Mount Pleasant Pilates -Christchurch New Zealand

Based in Mt Pleasant Road - Christchurch, and run by Charrette Boyce, who has trained under the finest of the "Classical Style" New York Pilates Elders. Says Charrette:
"Clients who work with a practitioner, properly grounded in historically sound Pilates technique, will more fully and rapidly benefit from the dramatically effective toning, strengthening and physical rehabilitation Pilates is famous for".
Charrette is being modest. I myself have no such inhibitions. In my experience, the "Classical Pilates" style is overall better than the "evolved" style, and going by her CV, Charrette is likely the best Classical Pilates instructor in New Zealand.

Alan Menezes (Australian based)
- offers Pilates Teacher Training and Certification in Auckland, New Zealand. Visit this page:- www.pilates.net/courses.htm



Comprehensive Guide to Pilates Teacher Training Schools and Pilates Certification




Why donate?


Thank you!

Bruce Thomson

Return to top...

Comprehensive Guide to Pilates Teacher Training Schools and Pilates Certification &copy Bruce Thomson, EasyVigour Project



Review and purchase these great books! -
Brooke Siler's "The Pilates Body" -
This is the book that Pilates Teacher Training Manuals are based upon!
(Read Book Reviews...)



Rael Isacowitz's Pilates
This is the book that future Pilates Teacher Training Manuals will be based upon!
(Read Book Reviews...)



Alicia Ungaro - Pilates: Body in Motion
This best seller virtually replaces the need for Pilates Instructor Training Schools!
(Read Book Reviews...)
Includes a Magic Circle Sequence. Perfect companion buy to Siler: "The Pilates Body"




Can Classic Pilates be performed standing? -
Take a look for yourself! (available as PDF download)





Search the most Popular Buys at Amazon.com...
Pilates Books...
Pilates DVD's...
Pilates Videos...
The Pilates Picture Gallery
Pilates demonstrating Classical Greek Perfection...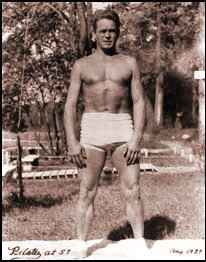 Pilates the Showman explaining another piece of apparatus...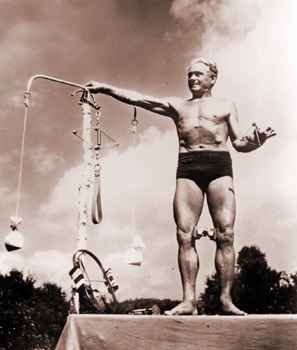 Pilates out Skiing, complete with Cuban Cigar!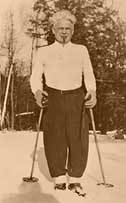 Pilates in his late seventies. Still able to squat...