Quote:
"I discovered that a deep squat on flat feet will almost always obliterate a lateral tilt of the pelvis and improve the posture"(1).

William Levaditis
Pictured above and right:
The deep squat provides a quick and easy strategy for rebalancing the body and is likely to minimize the risk of onset of idiopathic scoliosis - but it must be done on a regular basis.
Pictured below: Scoliosis upon Adams test forward bending in a boy and in a girl (more information, see Scoliosis description and diagnosis).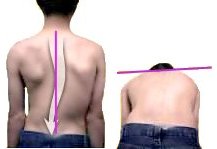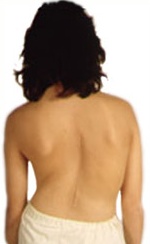 Return to top of page

How I discovered a potential link between deep squat toileting and scoliosis prevention
I read an article by chiropractor William Levaditis entitled The pelvis leveling manouvre: clinical impressions. From here I reasoned that if the deep squat can temporarily level the pelvis and improve the posture then regular toilet squatting (one or more times per day) should aid in prevention of scoliosis. This theory predicts a reduced prevalence of scoliosis in the toilet squatting nations (India and China, and to a lesser extent Japan and Singapore/Malaysia).
Is there in fact reduced prevalence of scoliosis in the toilet squatting nations? I performed a scientific article search for worldwide prevalence of scoliosis which included scoliosis prevalence in the toilet squatting nations.

Here is what I found out:

Return to top of page

Table: Prevalence of persons with scoliosis compared with prevalence of households deep squatting
| | | | |
| --- | --- | --- | --- |
| Country | Prevalence of Households deep squatting | Prevalence of persons with a positive Adams | Prevalence of persons with X-ray evidence of Scoliosis |
| USA | 0% | 3-5 per 1,000(7) | 8.3%(5) |
| Japan | 45% approx (2) | - | 3.2%(4) |
| China | 100% | 0.64 per 1,000(8) | 1.0%(8) |
| India | 100% | 0.65 per 1,000(6)* | - |

(*) excluding cases due to nerve damage (mostly poliomyelitis)

Findings:
(1) In countries where children squat to toilet (India and China), the prevalence of scoliosis is approximately one seventh of that found in countries where children sit to toilet.

(2) In Japan in 1995, perhaps one quarter of the children may still have been routinely toilet squatting at home and almost all of them would still have been toilet squatting in schools and public places. This amount of squatting correlates with a level of scoliosis in teenagers in Japan of just 39% of that observed in America (i.e incidence is less than half). (2, 4).

(3) In the older Japanese population (who grew up at a time when squat toileting was more common), the prevalence is lower than in the teenage population (2, 3).

(4) In Singapore, the Asian female adolescents have the highest prevalence of scoliosis, followed by the less well off Indian and Malaysian ethnic groups. The Indian and Malaysian ethnic groups probably have poorer diet(16), and likely will tend to squat toilet more than their more well off Asian counterparts.

Return to top of page

How certain can we be that toilet squatting prevents scoliosis?

We can't! - Short of a mass intervention squatting trial performed on perhaps 10,000 girls through their formative years.

I suggest you look at it another way. It's not hard to encourage your kids to do a heels down squat to read the newspaper on the lounge floor. And the postural and muscular rebalancing is going to be good for them even if they were never going to get a case of scoliosis. The downside(???) - you have to do it yourself to set a good example.

A compromise approach would be to do your own Adams forward bend testing at home and get some deep squatting in place at the earliest opportunity.

In summary:
The deep squat may be the reason that scoliosis (curvature of the spine) is far less prevalent in Asian countries (where they regularly squat to go to the toilet).

Conclusion
Regular deep squatting seems likely to reduce the risk of development of scoliosis, and if performed regularly enough, risk reduction may be up to seven fold!

Return to top of page

Take home message for scoliosis prevention and control
If you want to reduce the incidence of scoliosis (and very probably other imbalances) in your children, get them to deep squat on a regular basis - preferably every day. As an adult you should deep squat too, because the deep squat is observed to balance the body, and (from my reading and observations) has other therapeutic advantages as well.

Return to top of page

How to squat
It is rare indeed for a western person to be able to squat with the heels down but it is therapeutic for both hip joints and spine, and you can develop the skill over time. Start with chair assisted and door jamb squats (see below).

Pictures:
Left - door jamb assisted squat, Right - chair assisted squat. Both of these modified squats provide a lead into full squatting. Expect it to take up to a year to achieve the actual "latrine style" deep squat.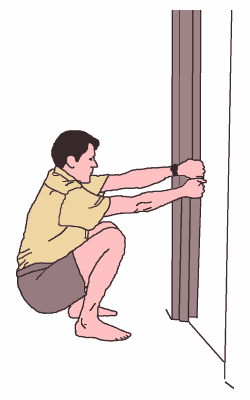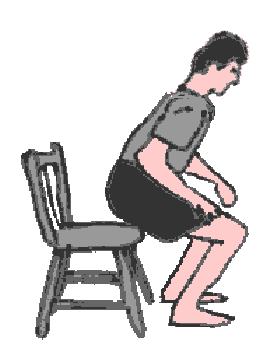 How to squat into and out of a chair is a lost movement pattern for western man. The trick is to keep the spine straight, the weight on the heels and the pelvis well back. Go to: Stand to sit and Sit to stand
also, view this video:

Deep squat video


(try also the chair sitter's version)


Return to top of page

Other risk factors for scoliosis

A review of literature shows

Probable link with lower blood levels of vitamin D and higher than normal requirements for vitamin D

Higher latitudes (higher than 25 degrees) are associated with higher prevalence of idiopathic scoliosis in adolescent girls(9). Also, of sisters where one is scoliotic and the other not scoliotic, the scoliosis sufferer will have osteoporosis (low bone density)(10).

Of 382 healthy Philadelphia children examined during winter(age range, 6-21 years, latitude, 40° north), the overall prevalence of low blood vitamin D (30 ng/mL) was 51% among whites and 94% among blacks. This figure is alarming when you consider that other authorities state that blood levels should be monitored and maintained at 60 ng/ml.

Unfortunately, no researcher has yet looked for a link between vitamin D and idiopathic scoliosis.

Vitamin D deficiency is a huge subject, and (sadly) I do not believe that your average doctor - or even your orthopaedic specialist - is equipped to advise you on it. You need to do your own research, and take control of your own blood test monitoring and supplementation program. Try this link:
Dr. Mercola Vitamin D Resource Page
Other causes
Some other possible causes of scoliosis are discussed at
the Connective Tissue Disorder Site.
Magnesium deficiency
Intense athletic training, gymnastics and dance are associated with higher rates of scoliosis and this may be due to exercise depression of estrogen levels and also due to stress on joints and bone growth plates
Increased bleeding tendency
Vitamin K deficiency (related to bleeding into immature bones that subsequently become misshapen)
It may be that scoliosis is associated with inability to absorb fat soluble vitamins


Tall and slender girls are more likely to have scoliosis


See reference 11

Girls with scoliosis tend to have later onset of puberty
See reference 9 - interestingly, onset of puberty is delayed at higher latitudes - another link with low vitamin D?
Return to top of page



Return to top of page

References

(1)
William Levaditis: The pelvis leveling manouvre: clinical impressions

(2)
Wikipedia: Toilets in Japan http://en.wikipedia.org/wiki/Toilets_in_Japan [There are two styles of toilets commonly found in Japan. The oldest type is a simple squat toilet, which is still somewhat common in public conveniences. After World War II, modern Western-type flush toilets and urinals became common. The current state of the art for Western-style toilets is the bidet toilet, which, as of 2009, are installed in 69% of Japanese households].

(3)
A; Research for the prevalence of scoliosis Nippon Seikeigeka Gakkai Zasshi. 1985 Nov;59(11):895-906. [Article in Japanese] http://www.ncbi.nlm.nih.gov/pubmed/3831161

(4)
SUGITA KIYOSHI: Epidemiological study on idiopathic scoliosis in high school students prevalence and relation to physique, physical strength and motor ability. Japanese journal of public health. vol: 47 issue: 4 page: 320-325 year: 2000 http://sciencelinks.jp/j-east/article/200018/000020001800A0534204.php

(5)
OLIVIA D CARTER and SUZANNE G HAYNES Prevalence Rates for Scoliosis in US Adults: Results from the First National Health and Nutrition Examination Survey International Journal of Epidemiology, Volume 16, Number 4, Pp. 537-544 http://ije.oxfordjournals.org/cgi/content/abstract/16/4/537

(6)
R. L. Mittal; R. Aggerwal; A. K. Sarwal: School screening for scoliosis in India: The evaluation of a scoliometer, International Orthopaedics (SICOT) (1987) 11:335-338 http://www.springerlink.com/content/w7x61k374141203l/

(7)
Statistics by Country for Scoliosis http://www.wrongdiagnosis.com/s/scoliosis/stats-country.htm

(8)
Liu SL, Huang DS: Scoliosis in China. A general review. Clin Orthop Relat Res. 1996 Feb;(323):113-8. http://www.ncbi.nlm.nih.gov/pubmed/8625566

(9)
Theodoros B Grivas, Elias Vasiliadis, Vasilios Mouzakis, Constantinos Mihas, and Georgios Koufopoulos: Association between adolescent idiopathic scoliosis prevalence and age at menarche in different geographic latitudes http://www.ncbi.nlm.nih.gov/pmc/articles/PMC1501058/

(10)
Mir Sadat-Ali, Abdallah Al-Othman, Dalal Bubshait, and Dakheel Al-Dakheel: Does scoliosis causes low bone mass? A comparative study between siblings http://www.ncbi.nlm.nih.gov/pmc/articles/PMC2443267/

(11)
Mordechai Shohat, Tami Shohat, Menachem Nitzan, Marc Mimouni, Ron Kedem and Yehuda L. Danon: Growth and ethnicity in scoliosis http://informahealthcare.com/doi/pdf/10.3109/17453678809149370?cookieSet=1

Young scoliotic adults are taller and markedly lighter and thinner

(12) Stuart Porter
Discussion on association between scoliosis and low vitamin D levels http://www.easy-immune-health.com/vitamin-d-and-scoliosis.html

(13)
Alisha J. Rovner Kimberly O. O'Brien: Hypovitaminosis D Among Healthy Children in the United States A Review of the Current Evidence http://archpedi.ama-assn.org/cgi/reprint/162/6/513

(14)
Daruwalla JS, Balasubramaniam P, Chay SO, Rajan U, Lee HP: Idiopathic scoliosis. Prevalence and ethnic distribution in Singapore schoolchildren.
J Bone Joint Surg Br. 1985 Mar;67(2):182-4.

(15)
Anecdotal evidence for partial penetration of western style toilets into Singapore
http://www.vagabondish.com/sign-sit-on-sitting-toilet-malaysia/

(16)
Chen ST:Comparative growth of Malay, Chinese and Indian school children in Malaysia.
http://www.ncbi.nlm.nih.gov/pubmed/1030848

(17)

Idiopathic Scoliosis: How Chiropractic Can Help
(Article suggests defects in the melatonin signaling pathways acause of scoliosis)
http://www.dynamicchiropractic.com/mpacms/dc/article.php?id=56540&aoid=dcnu_20130604_chirotouch

Return to top...
Pilates Online Printable Positions and Exercises with Pictures and Diagrams
&copy Bruce Thomson, EasyVigour Project




Dedication:
This article is dedicated to the memory of William Levaditis, who passed away on February 17th 2010.

His report on how "pelvic leveling" (deep squatting) normalizes the posture was the inspiration for this article.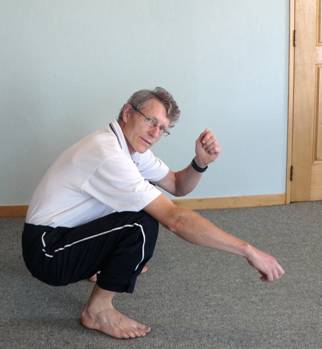 Warning:
If you have a history of recent severe back pain, you should consult a medical professional before attempting to do the full deep squat as illustrated. Nevertheless if spine health permits, it is a very healthy ideal to work toward.

(See Squat suggestion later on this page).